Looking for ways to infuse your indoor space with greenery? Get inspired by these unique and creative indoor gardening ideas ranging from small accents to bold botanical statements.
Hanging Houseplant Display
Create an artful moment by clustering hanging baskets and pots together in a corner, on stands, or different heights from the ceiling. We love macrame hanging planters for pothos, spider plants, and philodendrons.
Accent Your Kitchen Herbs
3 pot herb station by Pandayou via Etsy
Tuck herbs and greens into your cooking space. Use wall-mounted planters or sleek Farmhouse Window Boxes to grow basil, thyme, oregano right within reach.
Floating Shelves Botanical Wall
Line up floating shelves decorated with a mix of trailers, succulents, and tropicals for a stunning botanical wall. Glass geometric hanging terrariums add modern drama.
Balcony Garden Oasis
Make the most of balconies and patios by situating container gardens, trellises, and seating vignettes. Try searching for hand-painted Mid-Century Modern Planters to elevate outdoor plants.
Desktop Terrarium
Add a micro garden to your WFH station with a compact terrarium, cactus garden or bonsai tree. You can learn to make your own right here in our blog. Click here to check out our DIY Terrarium Building step-by-step guide. 
Windowsill Propagation Station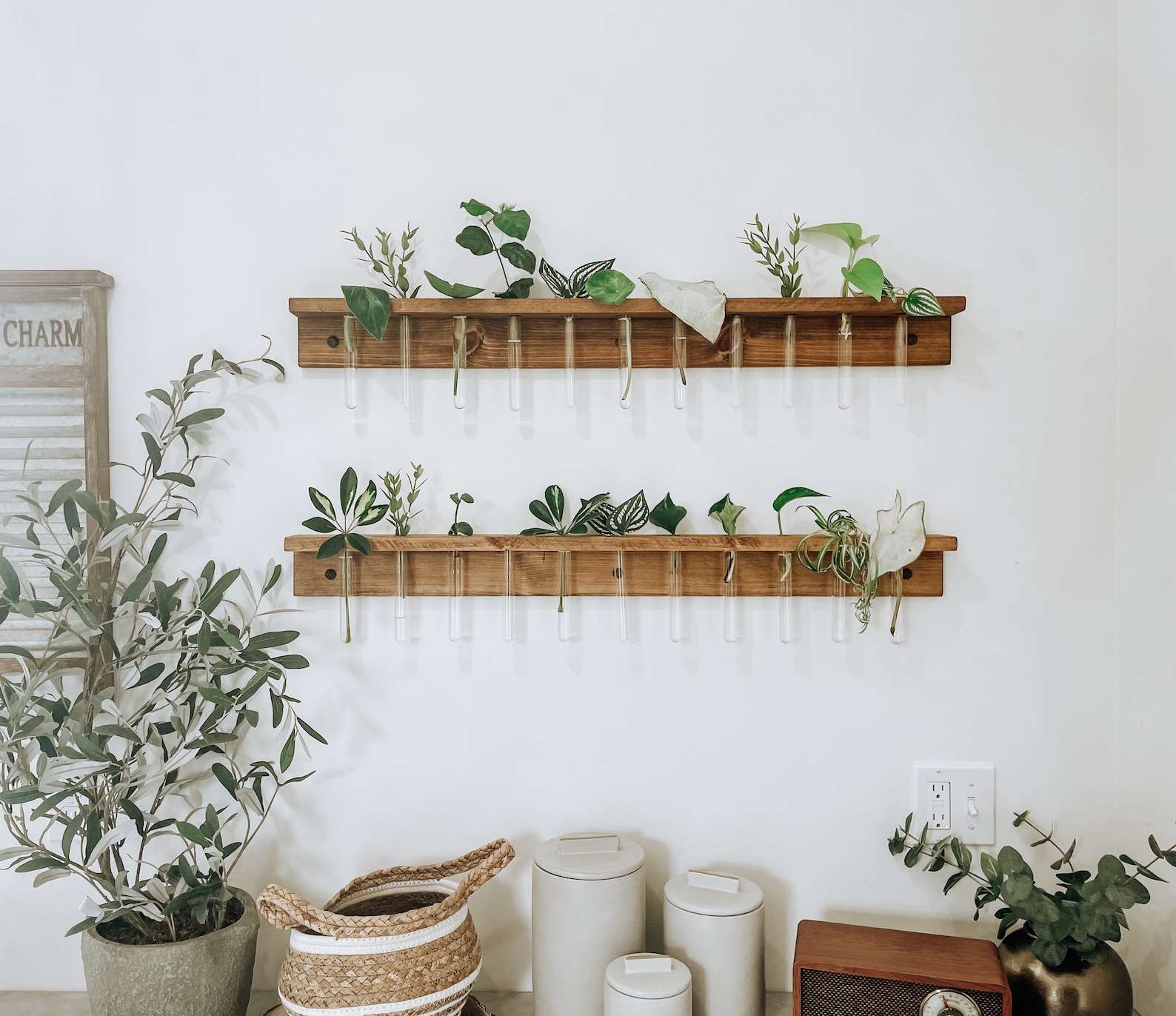 Propagation Station by NeartoHome via Etsy
Windowsills are ideal for rooting propagations in glass jars of water. Display cuttings of philodendrons, pothos, herbs, and coleus. This Propagation Station Kit by NeartoHome include all supplies.
Bookshelf Botanics
Tuck small potted succulents, air plants, and cacti into open bookshelves to seamlessly blend greens and decor. Search Etsy for playful painted ceramic planters to add a touch of color.
Bathroom Blooms
The humidity of bathrooms creates an ideal microclimate for ferns, orchids, peace lilies, and other moisture lovers. Place planters with drainage atop sinks and shelving, or add larger plants for a more dramatic effect.
Get creative with where and how greenery fits into your home with these unique indoor gardening ideas. How do you like to blend plants into your space?